What is Google Search Console
In this article we will discussed what is Google search console, what is does, what features does Google search console have, and how it can help you gain more traffic to your website.
Google Search Console is a free tool from Google it allows you, SEO managers, marketing managers, and even developers understand how a site is performing in google search results. Google search console also helps you understand what you can do to help bring in more niche related traffic. Although Google search console is important for SEO it is not mandatory, in that you won't get a Google penalty for not having it on your site. Having it on your site will for sure help with things such as: The google web crawler, indexing and serves your site to your users.
What can you do in Google search console for SEO?
1. You can understand how Google will crawl, and index your site.
2. You can fix errors or problems that are affecting your rankings. 
3. You can submit to google your updated content.
4. You can monitor search performance.
What are the most important features of Google Search console ? (GSC)
First on the performance page we can see that we get the follow data types: Total clicks, Total impression, Average CTR, and average position.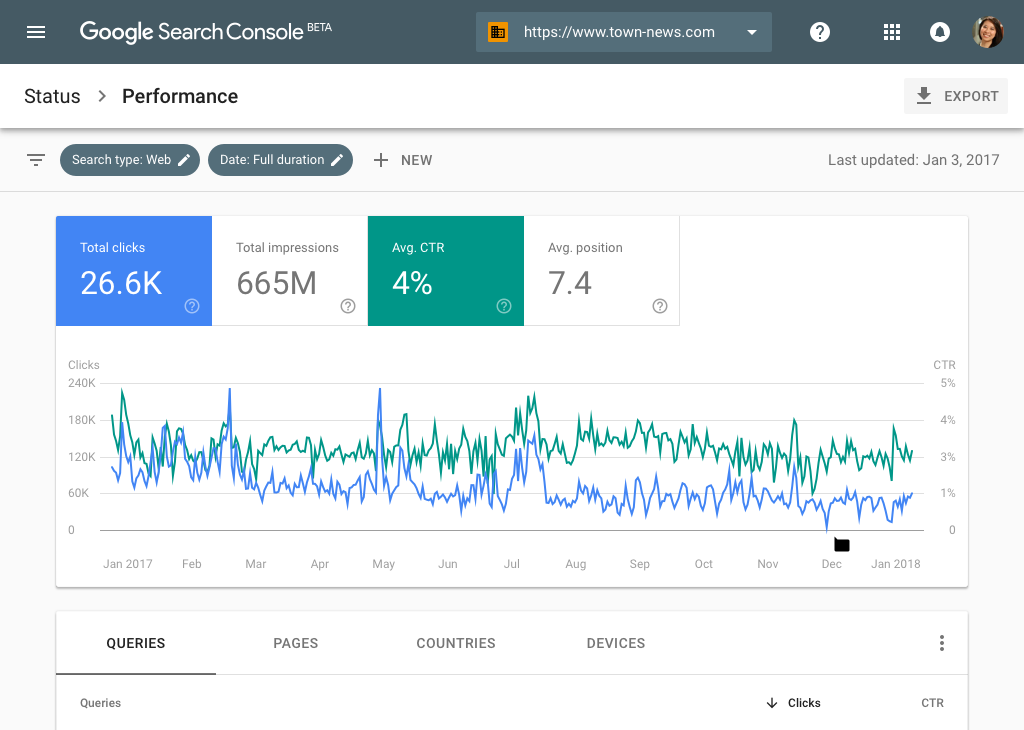 What are Google search console total clicks
Is the amount of clicks you have gained over a set period of time. This is when you appear in search, and someone clicks on you.
What is Google search console total impression
This is where you show up in search, however people didn't click on your link.
What is Google search console click through rate
This is how much people have clicked on your site when compared to how many times your site was seen in search and clicks or not clicked. This is always a % amount.
What is Google search console average position
This is where you land on the google search results page.
As you click through on the Performance page in Google search console you will see: Queries, Pages, Countries, Devices, Search appearance, and Dates
What are Google search console queries
This is the keyword(s) that are typed into Google search that actually land a person onto your site. Are you getting found by people searching for non relevant search queries if so then you might want to look at how your optimizing your site. Do you have high keyword concentration for services or products that you don't offer, if so then you need to consider your customer's experience when they land on your page, if they get to your page and have no interest in the final information they find then your site is going to lose rankings because Google can tell this information didn't satisfy the customer' search intent.
What are Google search console pages
This show you the pages that people land on the most. Depending on what your site needs, the pages with the most traffic might want to have the best design, or these pages might want to be updated. You want to put your best foot forward when people are visiting your website.
What are Google search console countries
The countries people are visiting from. Do you service people in the US but get a lot of traffic from China or Russia, if you do then it's time to take a look at why certain pages are performing better for Chinese / Russian audiences. You might want to consider if you site has been hacked, so inspect the pages that perform better for these countries outside your jurisdiction 
What is Google search console device
The device people are using to visit your site. Depending on your site's content and the need of your site, it might be important to understand where your traffic is coming from. For example if you get a lot of traffic coming from mobile it's a good idea to understand this. You need to see things form your customer's point of view, what information do your customers see on mobile that they do see on desktop. Sometimes people seeing more on desktop changes whether or not they are going to click on your site.
What is Google search console search appearance
This is how your site is appearing in google search, you might appear under: all, maps, images, videos, shopping, etc…
How to find and fix errors in google search console.
If you go to pages, which is under indexing, you can find why page's are not indexing. Reasons such as, 404 error, page with redirect, blocked by robot, etc…
This is where a page links to another page that isn't there. This could be because the page was deleted, was never there in the first place. If it wasn't never there, then the link(S) linking to that page might be incorrect so check spelling, and the link itself. 404 Errors lead to a bad experience for your users so Google prefers these don't exist on your site.
This is where a page is being redirected to another page, this sometimes happens if you or one of your SEO managers, developers changes the direction of a page because of a 404 error.
There might be a specific reason why you don't want a page being indexed in the first place. Sometimes there are pages that wordpress creates that don't create a good experience for the customer. These pages might include category pages, search query pages etc… 
These are just a few categories of why pages arn't getting indexed on your website, there will be different categories that apply to you site, plus Google does create new categories so you'll need to stay on top of what these mean. Each of the categories have an ! next to each one to help you gather more information on what is stopping pages from getting indexed. Although this isn't a Google issue, there are some wordpress plugins that will no-index the whole site, while Google won't tell you this its worth noting for future reference.
This isn't a complete list of features from Google search console, but its the main information you want to be looking at to help you to understand to better your rankings, and its free.